Becky sang "Tsa La Gi-We Are Many" at the 2014 Cherokee National Holiday in Tahlequah, OK.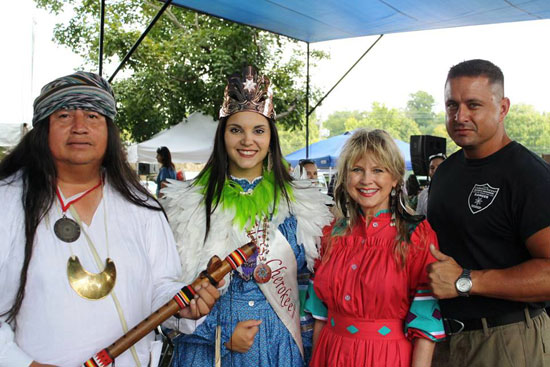 October, 2013
Click here to read the full NewsOn6.com article of the "Musical Premiere At Cherokee National Holiday In Tahlequah".
October, 2013
We got a wonderful review of our musical in the October 2013 issue of the Cherokee Phoenix. Click here to view the article
September, 2013
OKLAHOMA Magazine (Sept. 2013) ran a great article on "Nanyehi" (pages 26-27) by John Wooley. Click here to view the article
Some after-the-show quotes:
"Becky Hobbs's and Nick Sweet's interpretive story of Nanyehi is a world-class musical production. As one of her descendants, the story of Nancy Ward is both inspirational and deeply personal to me. The stirring compositions, riveting dialogue and modern choreography make this a must-see piece of musical theater. Cherokee Nation history enthusiasts and theater fans will be mesmerized with Becky's wonderful creation."
Bill John Baker, Cherokee Nation Principal Chief
"NANYEHI is a powerful, sweeping saga told in achingly personal terms. Nashville performer and songwriter Becky Hobbs has long been able to turn a phrase and evoke an emotion with the best of her peers; collaborating here with veteran stage director Nick Sweet, her songs propel a real-world story that reverberates with wisdom. feeling, and shared humanity."
John Wooley, author of SHOT IN OKLAHOMA and FROM THE BLUE DEVILS TO RED DIRT: THE COLORS OF OKLAHOMA MUSIC
"Every aspect of this production, from the quality of the performers, most of them local, to the structure and dialogue of each scene, to the beauty of the music, is spectacular... I have never cared so deeply or shed so many tears for characters in a play... this musical deserves a permanent place in the hall of fame of American creative productions." Click here to read more
Stanley A. Rice, Professor of Biological Sciences, Southeastern Oklahoma State University, Durant
August, 2013
Here are some pics from our Tahlequah production of "Nanyehi-Beloved Woman of the Cherokee.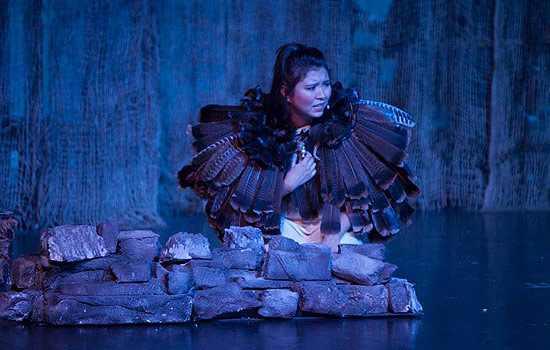 Some backstage shots: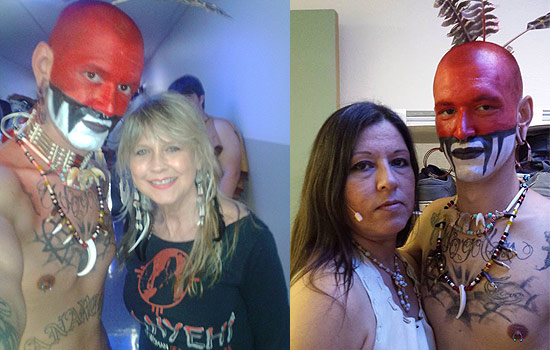 We had a great band!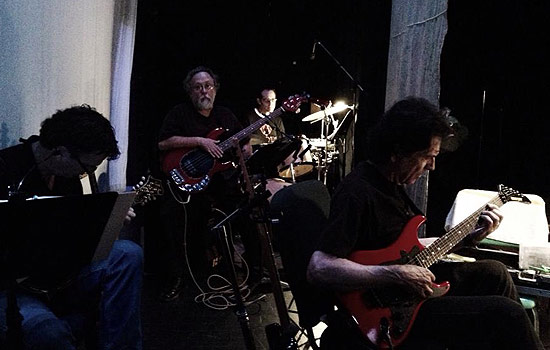 Becky, Nick and members of the cast appeared in the Cherokee National Holiday Parade.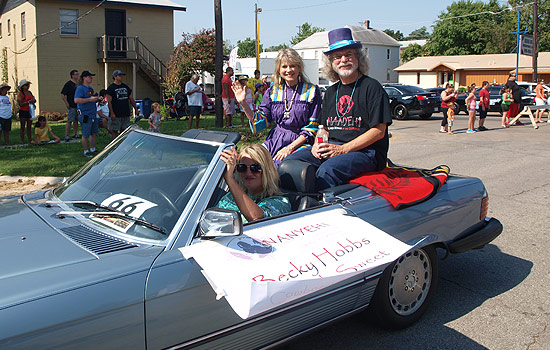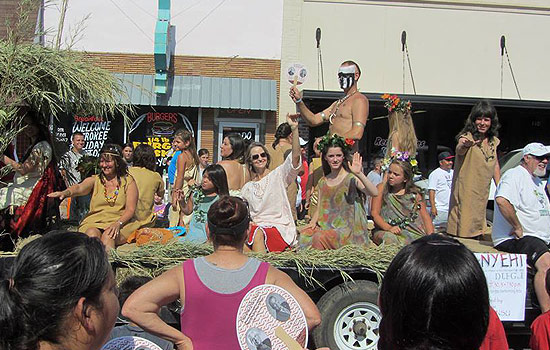 For more pics and info on "Nanyehi-Beloved Woman of the Cherokee," go to: www.nanyehi.com
August, 2013
Becky and Duane sang TSA LA GI-WE ARE MANY at the State of the Nation address on Aug. 31st.
Here are some recent pics of Becky, Duane and others: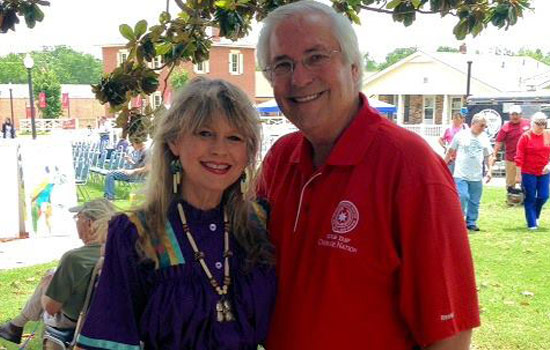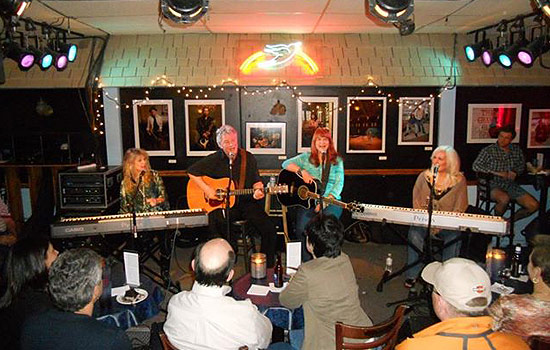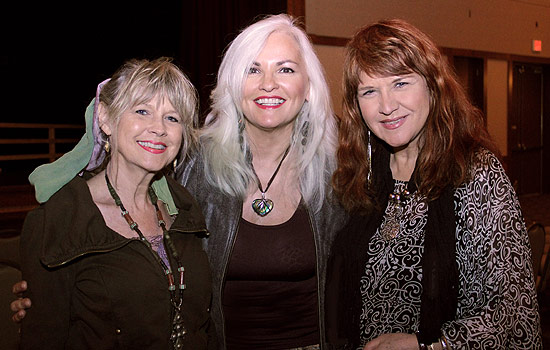 May, 2012
We received six Standing O's at our six World Premier performances of NANYEHI-BELOVED WOMAN OF THE CHEROKEE in Hartwell, GA in April, 2012! Michelle Honaker did an amazing job portraying Nancy Ward. We had a terrific cast of 40 actors, singers and dancers.
| | |
| --- | --- |
| | Produced by Savannah River Productions |
Photos from the performance below: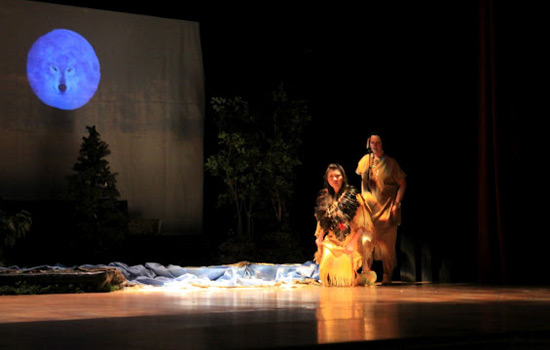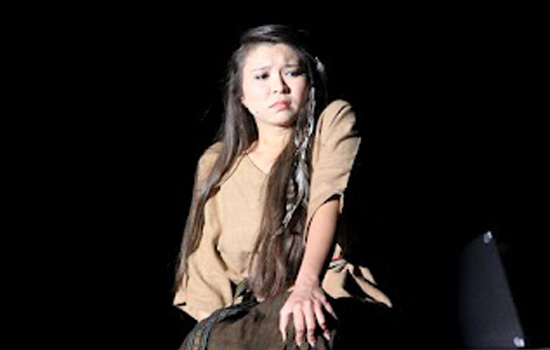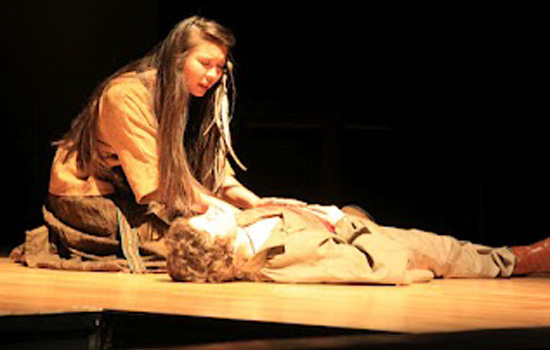 Feedback from the performance below:
"What an incredible production!!!! I've been reviewing shows for more than 40 years and this is one of the greatest and grandest and most emotionally heart wrenching musicals I have ever seen. My immediate reaction is that it combines the rebellious and youthful nature of Hair with the western pioneer spirit of Oklahoma! The story of the great Cherokee warrior woman and peace advocate Nanyehi (also known by her English married name of Nancy Ward) is so typical of the many Americans who are trying to get beyond what divides us while trying to remember what best unites us. The superbly crafted songs of Becky Hobbs, great dialog by co-playwright Nick Sweet and amazing performance by Michelle Honaker in the title role brings to mind one simple question: Why isn't this show on Broadway where all Americans can be proud of the real-life role that Native Americans had in bringing about our wonderful nation?"
Don Rhodes, Publications Editor
Morris Communications Co.
Publications Manager
National Barrel Horse Association
The Augusta Futurity
"Since Nanyehi became famous before written historical records on Native Americans are extensive, we know just enough about her life to interweave historical events with artistic license. Nick Sweet and Becky Hobbs have done this to perfection to produce a spectacular musical. Even though I had been following the project since its beginnings, seeing the premiere of "NANYEHI – Beloved Woman of the Cherokee" on April 14 in Hartwell, Georgia, was both breathtaking and moving. The Overture, which was new to me, was so overpowering, that I was literally in tears before one actor stepped onto the stage. The songs, which I had heard Becky sing many times, took on a new meaning when being performed as part of the narrative of Nancy Ward's life. Michelle Honaker's portrayal of Nanyehi was more inspiring and spiritually moving than I would have imagined possible. I can envision Michelle taking this to Broadway and the movie screen. The descendants of Nancy Ward will be proud and inspired by this project taken on by Becky and Nick."
David Hampton, President
The Association of the Descendants of Nancy Ward
"Becky Hobbs and Nick Sweet have created a powerful, unique, and brilliant musical about Nanyehi/Nancy Ward. The songs touch the heart and soul, and linger in the mind. The cast, dances, costumes, story, settings, and music were outstanding. Michelle Honaker portrayed Nanyehi to perfection with her vocal and acting skills. This is a shinning jewel of a musical, sure to land on Broadway and to tour the country for years, thanks to the talents of those involved who helped bring the Beloved Woman of the Cherokee to life. Standing ovations for every performance were well-deserved. I can hardly wait to see it again. I am certain that both the musical and the song "Pale Moon" will be multi-award winners."
Janelle Taylor - Multi-award winning, New York Times bestselling author of numerous Native American novels, including Destiny Mine and the "Lakota Skies Series."
"Michelle Honaker has set her sights high and achieved a great accomplishment. She epitomizes the spirit of peace for which Nancy Ward is known... I enjoyed the musical greatly and plan to return later this month for a repeat performance."
D. Ray Smith - The Oak Ridger, April 23, 2012
Click here to see more pics and updates on our Facebook page
December, 2011
Danny Peary's in-depth interview with the Beckaroo has now been updated!
Click here to view the full article
November, 2011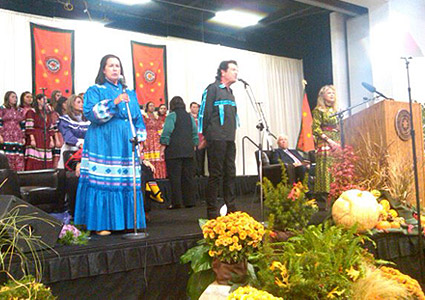 Becky Hobbs, Duane Sciacqua, mezzo-soprano Barbara McAlister, flutest Tonya Russell, and the Cherokee National Youth Choir perform TSA LA GI – WE ARE MANY (written by Becky) at the Inauguration of Principal Chief of the Cherokee Nation, Bill John Baker, on Nov. 6, 2011 in Tahlequah, Oklahoma. Bill John Baker is a fellow Nancy Ward descendant.
December, 2011
"A Cowgirl, A Diva and A Shameless Hussy". Becky Hobbs, Benita Hill and Kacey Jones perform together, featuring songs they've each written, harmony vocals, humor, and inspiration. Photo taken at the Whippoorwill in Gallatin, TN for Operation Troop Aid.
www.ACowgirlADivaAndAShamelessHussy.com
April, 2011
U.K.'s Country Music People, the #1 magazine for international country music news. "Move over Lion King, roll over Les Miserables, step aside Lloyd-Webber, the Beckaroo and Nanyehi is coming!" - Jon Philibert
Click here to view the full article
September, 2010
Becky and Duane performed at the Cherokee Heritage Center Grounds in Tahlequah, OK to celebrate the 58th Cherokee National Holiday. After a rousing country music show, interspersed with songs from NANYEHI, the Beckaroo invited up friends, including opera singer Barbara McAlister, to join in singing "Tsa La Gi We Are Many." They got a standing ovation.
September, 2010
Becky sings "Let There Be Peace" at the Association of the Descendants of Nancy Ward meeting in Tahlequah. At the end of the meeting, Duane joins her in singing "Tsa La Gi We Are Many," and a resolution was made by the Association of Descendants, to propose legislation to make "Tsa La Gi We Are Many" the official National Anthem of the Cherokee Nation!
August, 2010
Becky plays in her hometown, Bartlesville, Oklahoma to benefit CONCERN Charity, an organization that supplies a food pantry, day-care, and other services to needy families and individuals. She shared the stage with the Nellie Johnstone, the first commercial oil well in what is now the state of Oklahoma. Even the 96 degree weather didn't stop the Beckaroo from rockin' at the keys.
August, 2010
Becky's song, "Tsa La Gi We Are Many" is performed by the Cherokee National Youth Choir, celebrating their 10th Anniversary, and the release of their new album, "Now and Then." The song is included on the album. Becky was invited up to talk about how she wrote the song.
Click here to see the slideshow and hear the song
July, 2010
Becky and co-playwright, Nick Sweet, complete a three-week workshop at NSU for NANYEHI, under the direction of Robyn Pursley.
Front row L to R: Mike Remy, Lucy Stambaugh, & Trey Clark.
2nd row L to R: Siota Mulford, Jennie Pletsch, Nick Sweet, Chris Miller (NSU Playwriting & Screenwriting Instructor), & Becky Hobbs.
3rd row L to R: Robyn Pursley (Instructor & Coordinator of Theatre for NSU) & Danielle Clark.
April, 2010
NANYEHI-BELOVED WOMAN OF THE CHEROKEE is one of eight recipients of the 2010 Visual and Expressive Arts Program Awards of the Smithsonian's National Museum of the American Indian. The museum's award program offers support to a wide range of arts activities with the goal of increasing knowledge, understanding and appreciation of contemporary Native American arts.
Click here to view the full article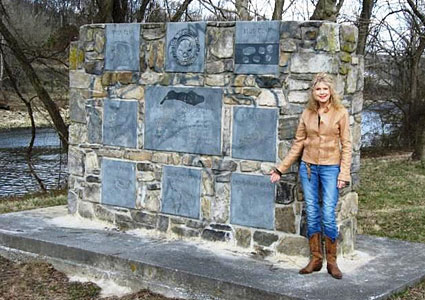 Becky Hobbs, 5th-great granddaughter of Nancy Ward, Beloved Woman of the Cherokee, recently visited Long Island on the Holston River in Kingsport, Tennessee, where Nancy Ward gave her famous speech in 1781. The Americans present included Col. William Christian and John Sevier, who were perplexed that the Cherokee would let a woman speak for them. In her speech, Nancy said, "You Americans look at women as though we are nothing. But we are your mothers; you are our sons. Our cry is all for peace. Let it continue. This peace must last forever. Let your mother's sons be ours, our sons be yours. Let your women hear our words."
Picture caption: Becky Hobbs, 5th-great granddaughter of Nancy Ward, Beloved Woman of the Cherokee, stands at the Cherokee Monument at Long Island, Tennessee, where Nancy gave her plea for peace in 1781. The monument depicts the Seven Clans of the Cherokee and the Seal of the Cherokee Nation.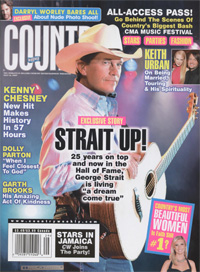 July, 2007
The July 16, 2007 issue of Country Weekly features the Beckaroo!
Click here to view the full article
Beckaroo & Duane visited Becky's old high school friend, Hans Schmoldt and his lovely wife, Kathy, in Grand Junction, CO when Duane was playing Country Jam with Rodney Atkins. Rodney has had three #1's in a row, and each stayed at #1 for multiple weeks. It was a great concert (30,000 people) and Hans & Kathy rolled out the red carpet, with 2 fun-filled days of rafting down the Colorado, drinking in sky chairs looking out at the beautiful western skies, shooting bottles with a slingshot, and a catered dinner under the Colorado stars with fantastic pianist, Roy Hutchins entertaining.
Duane rockin' with Rodney... taken from the "These Are My people" video shoot.